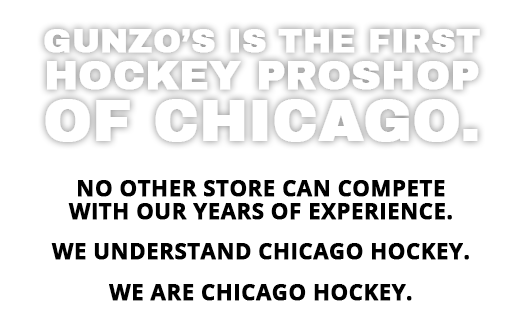 HOLIDAY GIFTS FOR HOCKEY PLAYERS
Click HERE to view some holiday gifts for the hockey player in your life!
WHAT MAKES GUNZOS THE SINGLE MOST REPUTABLE AUTHORITY WITH HOCKEY SKATES IN THE CHICAGOLAND AREA?
Visit us in person to see the skate fitting experience yourself. We are one of the oldest hockey suppliers in Chicago but we are lightyears ahead of our competition with technology to help your skates have a perfect fit.
LOOKING FOR THE PERFECT HOCKEY STICK? LOOK NO FURTHER, GUNZOS IS THE LEADING PROVIDER IN HOCKEY STICKS FOR CHICAGO
Visit us in person to see the difference yourself. Hockey stick technology has come a long way. We have been around to see the entire industry transform. Let one of our seasoned customer service representatives guide you to the perfect stick.
GET YOUR SKATES SHARPENED BY OUR SKATE SHARPENING EXPERTS. GUNZOS IS THE LEADING EXPERT IN HOCKEY SKATE SHARPENING
No need to make an appointment. Bring your skates in to our Chicago hockey store and we'll sharpen them while you wait (about 10 to 15 minutes). If by chance there's a backlog of skates to be sharpened, you may leave them with us and we'll sharpen them as soon as possible and call you when they're ready.